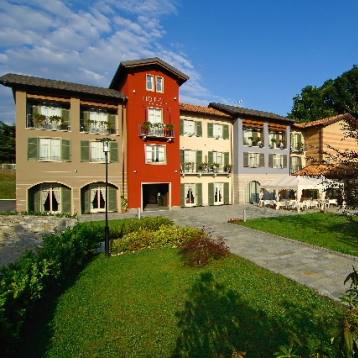 The Cortese Hotel is an authentic architectural jewel and a refined place of warm hospitality located in the stillness of nature surrounding Lake Orta and Lake Maggiore, only a few minutes away from the spectacular view of Mount Mottarone (1,492 m above sea level). Opened on the 22nd October 2005, this new construction evokes the magical atmosphere of a typical small village, finding within its essential idea of Elegance the perfect synthesis of Modernity in style and Tradition in contents: local stones, precious wood and wrought iron, in fact, transform a prestigious four star hotel into a cosy, delicate and beautiful niche.

Our 34 rooms (of which 2 junior Suites and 2 Superior) offer a panoramic view over hills, mountains and surrounding woods, as well as the best amenities in the category.
Total rooms: 34
Check-in: from 14:00 to 20:00
Check-out: from 07:00 to 11:00
Payments accepted
Carta di credito, Contante
Credit cards accepted
American Express, Diners, MasterCard, Visa
Cancellation terms
It is possible to cancel bookings up to 5 days before the stated arrival date without any penalty due. Cancellations made beyond this term will cause the debit of a penalty which equals the cost of 2 nights or of the whole stay in case of shorter holidays. Cancellations made ​​on the day of arrival or non-arrival (No-Show) will be charged a penalty equal to 100% of the stay.

Accommodation Features
Designer Hotel, Garden, Soundproofed Rooms, Rooms for Non-Smokers, Wheelchair Accessible Rooms, Allergy-Free Rooms, Wheelchair Accessible Environment, Gay Friendly
General Services
Restaurant, Typical local cuisine, Receptions / Banquets / Ceremonies, Bar, Snack bar, Coffee Lounge, Outdoor swimming pool, Meeting / Conference Equipment Hire, Daily papers, Air-conditioning in public areas, Lift, Internet Point, Banquet / Reception Hall
Reception Services
24 Hour Reception Desk, Quick Check-In and Check-Out, Multilingual staff, Tourist Information Offices, Safe-deposit box, Internet connection, Fax Service, Photocopying Service
Transportation
Transport to/from the Airport, Outdoor / Uncovered Car Park, Car Hire, Bicycle Hire
Customer services
Laundry Room
Room Comforts and Facilities
Toiletries, Air-conditioning, Hairdryer, Balcony, Safe-deposit box, Internet Connection, Cot, Shower, Mini-bar, Extra Bed, Heating, Bathroom, Desk, Wake-up Call Service, 24 Hour Room Service, Telephone, TV, Satellite TV, Wi-Fi
Sport and Recreation Activities
Golf course, Tennis Court, Massages, Fitness Centre / Gym, Excursions, Walks, Bike Rides