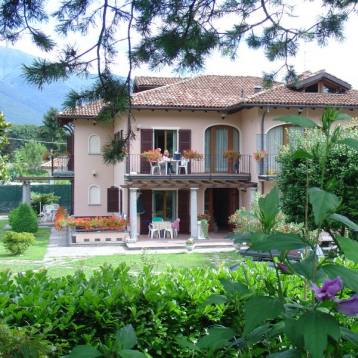 Our residence "Villa Margherita" is located at a sunny and quiet location at the famous Lago Maggiore. Directly at the see and very close to the city centre of Cannobio.

We offer you generous brightened holiday flats and rooms for every komfort. well fitted citchen, washing machine, showers/toilets, furnished balkony or veranda, TV, phone, car park.

A beautiful lawn for sunbathing with typical plants of this region and our snackbar are available for you. To complement you stay, we daily offer you a comprehensive breakfast.

The residence "Villa Margherita" has 4 comprehensive and comfortable rooms.

Every room has it`s own shower/toilet, balkony or veranda, big fridge, komplette Wäsche (??), TV, phone.

In our snackbar we daily serve you with an extensive breakfast.

Total rooms: 10
Check-in: from 14:00 to 18:00
Check-out: from 08:00 to 10:00
Children from 0 to 2 years discount 100%
Payments accepted
Carta di credito, Contante
Credit cards accepted
MasterCard, Visa
Accommodation Features
Terrace, Garden, Rooms for Non-Smokers
General Services
Bar, Coffee Lounge, Pets are Welcome
Reception Services
Quick Check-In and Check-Out, Multilingual staff, Tourist Information Offices, Safe-deposit box, Internet connection
Transportation
Outdoor / Uncovered Car Park, Car Hire
Room Comforts and Facilities
Barbecue Accessories, Toiletries, Hairdryer, Balcony, Coffee machine, Kitchen, Shower, Microwave Oven, Washing Machine, Heating, Satellite TV
Sport and Recreation Activities
Cycling, Walks