Hotels - Pensions 3 stars to Locarno



Hotel Garni Millennium
Ticino - Locarno (TI) - Via Dogana Nuova 2 - 6600 - Locarno
info@millennium-hotel.ch - http://www.millennium-hotel.ch
telephone +41 (0)91 759 67 67 - fax +41 (0)91 759 67 68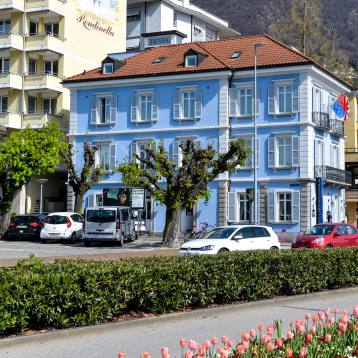 THE HOTEL GARNI MILLENNIUM is a small cute hotel, situated at the lake Maggiore, famous for its climate. Perfect for wonderful excursions on the lake or the valleys. A big range of events will gurantee unforgettable moments during the whole year.

Until the end of 1999 the building from XIX. century was used as the custom house of Locarno. In the year 2000 the building was completely renovated and transfered into a Hotel Bed&Breakfast, from there the name Millennium. The style from XIX. century and the charming equipment are giving a special touch.

2003 all rooms have been changed and redecorated from the director of Jazz Festival Ascona, Nicolas Gilliet. Every room is dedicated to a famous Jazz artist. On the walls you can find paintings from Cio Zanetta. With this changement the Millennium became also the Jazz Hotel of Ascona.

The name garni means Bed&Breakfast and is used only in this region of Switzerland.

All rooms are furnished with: air conditioning, radio/DVD, minibar, digital TV, W-lan, direct line, shower, toilet, hairdryer and orthopedic matrasses.

Comments of our guests are often: small but beautiful. Let us show you why small is beautiful.
Total rooms: 11
Booking
General terms & conditions Hotel Garni Millennium
Check-in: from 15:00 to 21:00
Check-out: from 07:00 to 11:00
Payments accepted
Carta di credito, Contante
Credit cards accepted
American Express, JCB, MasterCard, Postcard, Visa
Services
Accommodation Features
Panoramic View, Lakeside, Soundproofed Rooms, Rooms for Non-Smokers
Reception Services
Multilingual staff, Tourist Information Offices, Left-luggage Facilities
Customer services
Laundry Room
Room Comforts and Facilities
Air-conditioning, Shower, Mini-bar, Radio, Heating, Wake-up Call Service, Telephone, Cable TV, Wi-Fi